Two reasons to celebrate this month…
The Rocksteady Lounge 6 Year Anniversary &
Jandisc Pre-Release Listening Party!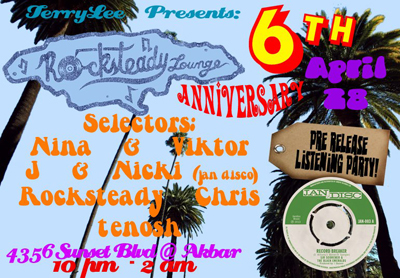 Special guest DJs J & Nicki will be previewing the latest release on Jandisc — "Record Breaker" by Sir Scorcher and the Black Emeralds. Hear both sides drop April 28th and pick up the freshly pressed vinyl on Jandisc in May. Plus the dynamic Jandisco duo will spin heavy-hitters and foundation tracks from their musical treasure chest.
No anniversary party would be complete without Rocksteady Chris, the Rocksteady Lounge's original boss DJ. Reggae for days and extra days!
Guest DJ Tenosh will keep you dancing with scorching ska and resident DJs Nina & Viktor will continue the 6 Year celebratory vibrations.
Host TerryLee, who has been greeting our guests for all 6 years, will be holding down the dance floor in true original style — in the front room! We're returning to the Lounge roots of The Rocksteady Lounge.
The Rocksteady Lounge
Akbar – 4356 Sunset Blvd, Silver Lake
10pm – 2am, 21+, No Cover